I'm so pleased that it's here — Striding Home.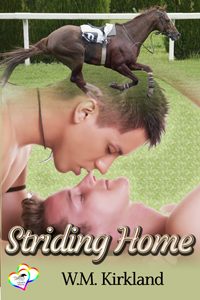 Arcelio (Ace) Mendez lost his career as a jockey and part of his leg in a horrible accident during a race. He thought he'd lost his lover, Danny Raines, too. Ready to move on with his life, he accepts an invitation from 2 Hearts Rescue to come see the horse he'd been riding when the accident happened. When he arrives, he discovers Danny's there, and they have a lot of catching up to do.
Danny would have kicked himself for not being there for Ace during his rehabilitation, except he'd had an accident getting to the hospital and shattered his ankle. His career as an exercise rider was over, and his self-destructive behavior ensured that career would stay dead. He found himself at 2 Hearts Rescue and it seemed that not only had the rescue saved him, but it also brought Ace back into his life. He has to prove to Ace that he won't run again, and together they can make a new home.
Purchase on Amazon (99 cents or free in Kindle Unlimited)