The scent of sun-warmed equine failed to push Jay's blues away. He tried. He buried his face in Jenny's mane and even shed a few tears. Jenny's hay-scented breath brushed across his cheek in an intimate caress, and neither the pleasure of that simple moment nor any number of tears erased the fact. Without help he was going to lose his ranch, and with it, ten rescue horses, half a dozen cats, and two dogs were going to lose their home. He needed cash and had no idea where to turn.
For the millionth time, he contemplated brushing off his resume. Going back to a corporate job would bring in money, but would it be enough? Not to mention the long hours away from the ranch would make doing chores without help even more difficult than it already was. The to do list on the white board in his office of repairs for the barn was growing longer by the day. "I don't know what to do," he said to the horse, giving her one last, lingering pat before backing out of the stall.
You'll find a way. The big dark eyes promised complete and total trust, a trust Jay wasn't sure he deserved. The orange shafts of sunlight poured through the open barn door, reminding him it was close to sunset and he still hadn't eaten yet. He checked all the doors and latched the bottom doors of the barn closed, and started toward the house.
A truck pulled into the yard. A nice truck, one that looked like a much newer model than his own. The truck parked and the door opened. Out stepped Cody Jewelles. Time hadn't aged his tousled dark blond hair, though a few more lines bracketed those deep blue eyes. A worn shirt stretched over broad shoulders and defined a set of abs as hard as the concrete he needed to break up in the north pasture. Jeans more expensive than his last feed bill sat on narrow hips and clung to his long legs and the boots on his feet were worn and very expensive.
"Cody," Jay said, wishing his heart wouldn't pound so hard. "I never thought…" He couldn't finish the sentence, didn't want to finish the sentence because it brought with it the memory of a horrific fight and so much yelling and in the end, slammed doors and broken hearts.
"Jay. I'm glad you're here." He crossed the space between them and clasped his former lover on the shoulder. "I should have called."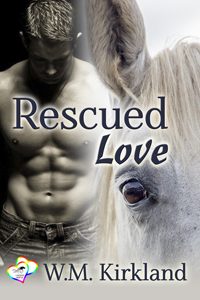 A rescue in need of cash. A broken heart in need of mending.
Giving up and going back to work as an attorney didn't appeal to Jay, even though he knew it would bring in money to save his failing rescue, 2 Hearts Ranch. When Cody shows up after walking out on him too many years ago, Jay wonders if his former lover is playing a trick on him, or if Cody's arrival answers more than one of his prayers.
Tired of not being accepted for who he was–a gay man–Cody walked away from his family's fortune to go after the man he loved–Jay. When he hears about the rescue's financial troubles, he knows he can help. Except some wounds take longer than others to heal, and he has to prove to Jay that this time, he's going to stay.