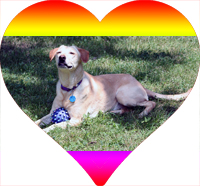 Don't miss a single story AND make a difference for animal rescue? YES, please!
Subscribe to our newsletter to receive word of our latest book releases, how to support animal rescue, what our contributing authors are doing and more! Plus, as a subscriber from time to time you'll receive exclusive discounts to the 2 Hearts Rescue store.
We promise to treat your information the way we want ours to be treated. In other words, we won't share, giveaway, or otherwise disseminate your private information. No bones about it!